Monday, I just started the Body for Life plan. Did my reps of x12, x10, x8, x6, x12, x12. Definitely feeling the after burn.
Day 2 I hit did the cardio interval session on the treadmill cycling (everyone was hogging the treadmills). I love that its only 20 minutes. But those intervals definitely definitely produce a challenge!
You can see I started to struggle on the cardio intervals in places where it shows two levels in one spot. Even towards the end I had to go back down to an L1. *whoosh*
As for the meal plan…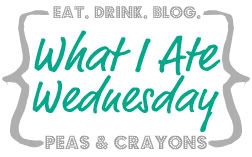 It's What I Ate Wednesday hosted by the lovely Jennifer at Peas and Crayons.
I am still trying to get the meal plans to jive with my family's SAD (standard American diet) meals. But I am doing okay. Still working on it. The meal plan is structured with 6 small servings a day. Which you know is how I love to consume my meals:
6 Protein servings
6 Carbohydrate servings,
2 Veggie servings (at least)
1 Good Fat serving (can you say 'peanut butter'?)
and like gallons and gallons of water (I don't know how I am going to consume so much water. something like 11 glasses a day!)
Here we go:
Breakfast
2 Scrambled Veggie Egg Whites (Protein + Veggie) topped with Salsa and Strawberries (Carb)
Snack1 + Lunch + Snack2 
Meals 2 – 4
Snack 1: cottage cheese (protein) + melon (carbohydrate)
Lunch: Salad (veggie) + beans (carb) + tofu (protein)
Snack 2: orange (carb)
Dinner
Lasagna, salad & white bread <<I know, the white bread was a no-no. So was the Lasagna ladened with cheese. But we were out of wheat (my drill sergeant – my mind – is currently yelling at me that my body will 'just not take that type of excuses').
Practice. It will get better master.
Dessert Meal 6
Of course it's CHO for meal #6! Topped with shredded coconut and chopped walnuts! Nom Nom Nom!
If any of you are holding fitness resolutions or need some cheering, come on over to the Oatmeal Bowl Facebook page. I plan on posting my Body of Life progress and would love to have you share your progress with any fitness program you are working on.
So… what's on your meal plan today? :)
I'm a Cancer Research Coordinator living and working in Los Angeles. I ♥ Oatmeal, Trail Running, Cooking, Outdoor Adventures, Yoga & Meditation. And making a conscious effort to make the best of each day!
Latest posts by Christine McCarthy (see all)