Let try this What I Ate Wednesday party out! Thank you to the host of the party,  Peas and Crayons (head on over to find more fabulous WIAW links)  ::crowd roars::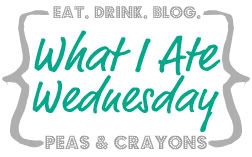 Did you know (our kids) get about 3 1/2 weeks off for Winter Break?! Crazy! They are going to drive their dad crazy!
Since they will be off starting Friday… And I haven't started my Christmas Shopping (what is there… like 11 days left?)…
 I took the day off to spend with the hubby and got the Christmas shopping started. I wish I could say completed but we didn't make it that far.
Morning
At 7 am I shipped off to the gym, pre-coffee, to go run a couple of miles. Ran into my neighbor on the treadmill. We chatted up about kids driving their parents crazy and the cold weather. It's been really freakin' chilly out here (for California, that is).
Afterwards, I drove across the street for my much needed Starbuck's Cafe Misto – Christmas blend coffee  - with 2 pumps of classic syrup and a KIND snack bar – Cranberry Almond (they are SO Good).
Then I headed back home. Got cleaned up and headed out to start the shopping spree with the husband. Of course, days off don't always mean freedom from responsibilities. I dropped my car off to the dealer for an oil change. I noticed that while my car is at 120,000 miles and still runs awesome, the dealer keeps charging more and more for something or other. Synthetic oil changes are an arm and a leg now. *sigh*
Kohl's was our first stop. I thought of the perfect gift for my lil baker. Well, she really isn't all that little anymore. But she will always be my little girl. I bought her one of these:
Just one store mustered up our appetite!
We headed to Coco's Restaurant. Okay, so I will let you in on a tidbit. This is the restaurant my husband proposed to me. Its our little laugh. We picked out and bought the ring together. Then went to breakfast. So to officially 'propose' to me, he ask me for my hand in marriage during breakfast at this restaurant 5+ years ago.
Yeah! They served Coach's Oats. I highly recommend trying Coach's Oats if you every come across the chance. I love the texture and the taste of them. In fact, one of our stops this morning was Costco. I bought a big bag of them. Even my meat and potatoes man like them (and that's hard to do).
Coach's Oats topped with blueberries, nuts, a little brown sugar, and non-fat milk. Side of 2 bacon. Cup of java. Yum! I ate the whole thing up. So Good!
Lunch
We shopped. We mall shopped. Tried to figure out what to get those kids. Ended up buying non-gifts, too. Like a new jacket for both kids cuz it's been really chilly out. There simple sweatshirts weren't cutting it anymore. And a new pair of jeggings for the girlie, because I found out this morning that she has outgrown all her jeans except one or two pairs. Kids have this knack for letting their parents know they need things last minute.
Oh, my husband even bought himself a sweater. I just realized I didn't buy anything for myself today. What gives?
We stopped off to pick up my car. Drove back home to drop it off. And decided to take a Christmas Shopping Lunch Break (also known as, bar drink).
A pomegranate margarita served in a martini glass was in order. It was so delish! You can find them at Applebee's. We ordered the potato twisters with a side of queso blanco. Spicy! Yummy!
For some reason, we decided to order lunch. Wasn't hungry at all. Just protocol, I think. I had the spinach salad with a side of tomato-basil soup. I ended up taking the whole thing home for tomorrow's lunch. But I did drink the whole margarita.
Dinner
Hunger didn't strike me til after the recital, until after we went back to the mall to exchange jacket sizes, and until after we stopped at the grocery store for my son's pretend homemade cookies for his restaurant class. Yes Ethan, I am snitching on you. LOL.
Where I topped the night off with a cheese and jalapeño tamale and a Cutie on the side.
Totally not a cutie picture, but So Good!
What's a cutie?
What is a Cutie to you?
I'm a Cancer Research Coordinator living and working in Los Angeles. I ♥ Oatmeal, Trail Running, Cooking, Outdoor Adventures, Yoga & Meditation. And making a conscious effort to make the best of each day!
Latest posts by Christine McCarthy (see all)