The sun is out and I'm addicted to my Starbuck's iced coffee.
Breakfast:
[Venti, 3 pumps classic syrup with soy milk. Mm-mm.]
I wasn't craving a substantial breakfast. So, I went with a large banana and my favorite Kind bar – Cranberry & Almond.
Breakfast was perfect.
Yes, I know… I really need to start painting my nails if my hands are gonna model in my pics. haha.
And I love those lights that hang in Starbucks. I want them for my own house!
Workout:
Last week was hectic. I only worked out twice and was crappy at that. This week, I am definitely getting back into routine. Yesterday I did run-walk intervals for 30-minutes. Running is the best stress reliever. I swear!
Today's workout was 3 – 4 sets of 8 – 10 reps of heavy weight:
- incline dumbbell shoulder press (Brag moment: I'm almost ready to move up to 25# dumbbells/each. yay)
- incline dumbbell flyes
- push-ups (knees and full. working up to all fulls)
- triceps pulldowns with rope
- triceps pushdown
Lunch:
I was craving a big lunch after today's workout. I loaded my meal with lots of yummy goodness!
Haha. The beer was part of dinner. Not lunch.
[Lunch was a spinach salad, with mushrooms, beets, peas, egg, baby corns and olive oil.]
[A bag of plain popchips. Then 1/2 turkey sandwich w/dijon mustard, purple onions, tomatoes, and cucumbers.]
I basically deconstructed it and ate it piece by piece. Ever do this?
I seem to be eating with my hands a lot, lately. Not sure why. I even pick up the tofu with my fingers… the baby corn…
CSA Goodies
I am so excited over this month's CSA shipment I just received. Not sure why.
Maybe because I just want to eat it all up right now.
Or I am excited over the meal & snack possibilities (strawberries in cashew cream, green beans and tofu stir fry, roasted broccoli, carrots and…).
Or because it feels like spring & summer
Veggies & fruits have lots of pretty colors
Or that my food is from a local farm. And much of it organic!
If you live in California, be sure to check out Farm Fresh to You to participate in your local Community Supported Agriculture. They do deliver to your front door step or your office. And the price is totally kosher!
=> Related: WIAW: A Daughter's Birthday Fun
Question
Running is my best stress reduction method. What is your best stress reduction method?
Thank you to Jenn – over at Peas and Crayons – for hosting another fabulous What I Ate Wednesday!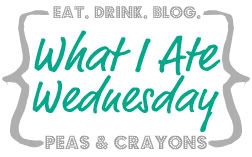 I'm a Cancer Research Coordinator living and working in Los Angeles. I ♥ Oatmeal, Trail Running, Cooking, Outdoor Adventures, Yoga & Meditation. And making a conscious effort to make the best of each day!
Latest posts by Christine McCarthy (see all)