Let's start the day with a little mental therapy, by looking at what the family did this weekend did this weekend. Ahhhhhh…. Dude, the weather was perfect. Fun in the Sun.
Now we head off to "the eats" scene.
BTW, do you have the song lyrics, "say you, say me, say it for always. That's the way it should be" stuck in your head??
Many of you commented it was stuck in your head after reading yesterday's post on 10 low-calorie drinks for Cinco de Mayo. heehee. yes, was my intention. its a great song! I am glad Lionel is making a comeback.
Breakfast:
I am freakishly busy these past few days because I have been preparing for a business meeting taking place the next 3 days, scheduling the blog to make sure its good to go for the week, and trying to prep for the BLEND Retreat and gorgeous Boulder, CO. So my eats are sparse during the day.
My Type-A personality has no time for a break. haha.
Breakfast was a simple bowl of Kashi Cinnamon Cereal with 1/2 sliced banana and reduced fat milk. That was at about 10:30 this morning. I was starving! Sadly, coffee is missing in this picture and in my day. *Dis*
Lunch:
Not to mention that my lunchtime workout didn't happen today. Busy as a Bumble Bee. But I will be making up for that in a few minutes of writing this post. And going to share the modified workout with you below.
Lunch time was a jalapeño Turkey burger and an Israeli Cous Cous salad on a bed of spinach. Dressed with EVOO and Mrs. Dash seasoning. I am tryin'… tryin' to keep this healthy.
Dinner:
Burrito mission was an #Epic Fail. I wanted a chipotle grilled shrimp burrito. But shrimp tends to be high in fat. So then I thought, I will have a spiced rub Talapia burritos with a side of kale chips. Two stores later… no kale! Who runs out of kale? It just wouldn't be the same without the kale.
Next best thing? Out to eat.
BJs Vegetarian Pizza with Whole Wheat crust and a NewCastle. I ate half and saved the other half for tomorrow's lunch.
Workout:
Yesterday, I have to say – was awesome. I did some plyometrics in my workout routine. 3 Sets of 10 each:
- Box Jumps
- Lateral Hurdle Jumps
- Mountain Climber
It was a great workout (and I am feeling it today). Then I did my calves and abs as noted in my plan. I like how the cardio is integrated with those exercises. I wanted to incorporate more Plyometrics into tonight's routine.
Since I didn't make it to the gym during lunch. I modified the routine (will be doing the one on the right) to accommodate working out at home with just a pair of dumbbells and the will to kick some b*tt! And posted it for you to get a sense that its easy to modify your workout routine and still get a mean workout.
Plyometrics in tonight's workout: bench dips, plank to push ups, and elevated push ups.
Did I mention that I am not a fan of push ups? LOL.
I am off to go workout. Post workout shake in Vanilla Ice Cream flavor (not shown) but surely was slurped up.
Question
If you dyed your hair a crazy color, what color would it be?
Related: Body for Life Review

Thank you, Jenn for hosting another wonderful What I Ate Wednesday!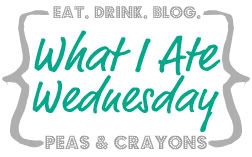 I'm a Cancer Research Coordinator living and working in Los Angeles. I ♥ Oatmeal, Trail Running, Cooking, Outdoor Adventures, Yoga & Meditation. And making a conscious effort to make the best of each day!
Latest posts by Christine McCarthy (see all)