[Breakfast: Venti iced coffee with 3 pumps classic syrup & soy milk. A bowl of granola & almond milk topped with chocolate PB, strawberry jam, non-fat Chobani greek yogurt, sprinkled with cinnamon;
Workout (not shown); post-workout refuel - GNC Beyond Raw Regrow in Vanilla Ice Cream; Lunch: BBQ left overs and a rainbow cupcake; snack for drive home: apple;
Dinner: spaghetti topped with cheddar cheese & roll;
Dessert: cottage cheese topped with peaches leftover from making peach simple syrup this weekend, blueberries, chocolate chips and cinnamon (out of this world yummy & simple)]
The rainbow cupcake link has the recipe for them, a great recap of the weekend and more yummy food pictures. I so was NOT sharing my cupcake today. I was rather greedy with it. heehee. and yes, there are a couple of repurposed pics cuz the protein and coffee are an everday norm.
=> Make sure to check out 30 Delicious Green Smoothie Recipes (+1) (one for every day of the month!)
Today's workout:
Warm up: Run/walk interval (run 4-min/walk 1-min; repeat x1)
Incline Dumbbell Flyes (3 sets of 8-10)
Incline Dumbell Presses
Pushups
Tricep kickbacks
Tricep pulldowns
I need to make sure to keep working out. Haven't done weights for a few days and I already felt like a weakling! But my running is getting stronger. Keeping today short you all. Need to finish my book – Born to Run.
Thank you to Jenn for What I Ate Wednesday!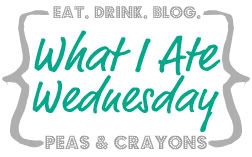 Related:WIAW: CSA Goodies
You might also enjoy: June POWERMEAL A DAY Clean Eating Challenge!
I'm a Cancer Research Coordinator living and working in Los Angeles. I ♥ Oatmeal, Trail Running, Cooking, Outdoor Adventures, Yoga & Meditation. And making a conscious effort to make the best of each day!
Latest posts by Christine McCarthy (see all)